Remote Monitoring for HSE
The SCADACore Health and Safety Monitoring helps companies keep their employees safe with real-time monitoring of hazardous gas and PPE auditing system to ensure correct operating procedures for personal gas detectors. SCADACore can design custom web applications that can be used by residents, townships, and companies to give themselves and their stakeholders peace of mind.
SCADACore has designed and retrofitted systems to perimeter monitor hazardous gases in the Oil and Gas and Industrial sectors. Real-time callouts can alert onsite staff and residents of potential health concerns quickly and efficiently.
Remote online auditing and alerts for PPE docking stations.

Daily reminders sent to employees for bump tests and calibrations.

Toxic gas monitoring with both on-site alarms and email/sms alarms.

Custom permanent monitoring solutions for toxic gas environments.

New products? No problem, SCADACore will integrate your product at no charge.
Air Particulate Monitor – 3M EVM3 / EVM 7 Remote Monitoring System
SCADACore's Cloud-Ready combines particulate remote monitoring, air quality remote monitoring, and gas detection in a single system.
All-Inclusive Pricing For Remote Monitoring

Included Sensors: Relative Humidity, Temperature, CO2, CO, Particulates, PID ppm

Available Sensors: O2, H2S, NO, NO2, HCN, EtO, CL2, S02, PID ppb, Air Velocity

Measurement Parameters: Avg, Level, Max, Min, STEL, TWA

90 degree light scattering photometer

Built-in sampling pump for gravimetric analysis
Heat Stress Monitor – 3M QUESTemp Remote Monitoring System
SCADACore's Heat Stress Monitor provides remote monitoring for warehouses, factories, outdoor labor, shipping yards, or anywhere where heat and humidity could potentially be a health concern.
All-Inclusive Pricing For Remote Monitoring

Measures / calculates WBGT indoor / outdoor, relative humidity and Heat Index / Humidex

Measures / calculates dry bulb, wet bulb, and globe temperature

Real-time clock provides accurate reporting with time stamping

Local data logging capabilities

2″ style globe sensor and standard accessories

Optional detachable air probe
Sound Level Monitor – 3M SoundPro Remote Monitoring System
SCADACore's sound level monitoring solutions are used on mining sites, quarries, oil and gas drilling sites, construction sites, and more.
All-Inclusive Pricing For Remote Monitoring

Microphone Class/Type: Type 1

1/1 and 1/3 Octave, C-A, CNEL, Dose, Exposure, Lavg/Leq, Ldn, Ln, Max, Min, PDOSE, Peak, Sel, SPL, Taktm, TWA

Time Response: Fast, Impulse, Slow

Real-time reports with time stamps for accurate reporting
HSE Remote Monitoring Applications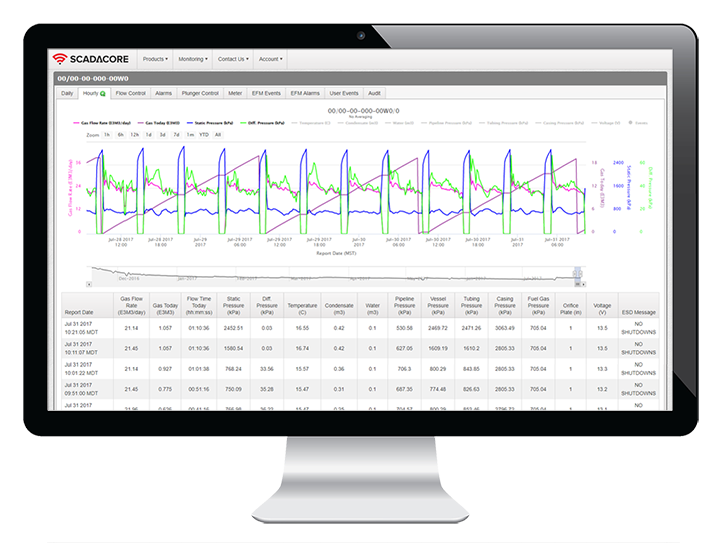 SCADACore Live – HSE Remote Monitoring Features
Historical Data Archival
SCADACore Live provides secured cloud-based hosting and data archival functionality, letting you access your data, trends, and reports anytime, anywhere. With secure, redundant servers, and secure remote login, we take care of all the Industrial IoT Remote Monitoring details for you.
Four intuitive pricing models will meet all your monitoring needs
Bronze
Daily Reports
Twice Daily Alarm Checks
Daily Email Exports
Daily GPS Updates
No Demand Polls
Silver
Hourly Reporting
Real-Time Alarms Available
Writable Control Points
Hourly GPS Updates
Up To 10 Demand Polls Daily
Gold
10 Minute Reporting
Real-Time Alarms Available
Writable Control Points
10 Minute GPS updates
Up to 20 Demand Polls Daily
Platinum
5 Second Reporting
Real-Time Alarms
Writable Control Points
1 Year Data Retention
Real-Time GPS Tracking
SCADACore helps keep your employees safe.
Are you interested in becoming a partner and reselling SCADACore Safety Solutions as your own? Click below to find out more.