SCADACore provides a wide variety of pressure monitoring for industrial applications. From water to pipeline pressures SCADACore has the equipment and expertise to properly monitor your assets.
SCADACore knows Industrial Process Monitoring.
Pressure monitoring can be used for long-term trending in applications such as irrigation, or it can be used in alarming in the case of fire suppression systems. Engine Oil pressure monitoring is an accurate way to monitor the status of a Compressor or Generator remotely. Rural areas can benefit from pressure monitoring on water wells to ensure water use is kept within acceptable limits.
Alarms can be set on high, low, and pressure rate rise or fall.

Wireless pressure transmitters are available to quickly install in areas where cabling is difficult.

Set escalating alarms so early warnings can to to foremen while higher thresholds send email or SMS directly to the workers. Compatible with SCADACore Sentinel products allowing real-time alarming.

Pressure alarms on engine oil switches can alarm alerting operators to engine failure.

You have an existing application that utilizes pressure monitoring that you want online? SCADACore will integrate your product at no charge.
We have Monitoring Solutions To Meet all Applications
Are you interested in becoming a partner and reselling SCADACore Live as your own?
Click below to find out more.
The SCADACore Live Dashboard summary page allows users to quicly view the status of the current and archived Surface Casing Vent Pressure Tests. The easy to navigate summary grid gives users a view of the current conditions of the active Tests.
Graphs will display the latest data in graph form.
If there are multiple active units a Map view can give a broader picture of the tests.
Multiple real-time pressure charts can be added to the dashboard page giving a complete overview of the entire facility on one page.

Historical data for pressures can be quickly retrieved and charted. Exports are available to allow clients to export to excel or csv for further analysis.
Escalating callouts allow administrators to set Email and Text alerts for specific groups of people at specific levels. This allows foremen and supervisors to be alerted when high or low pressure thresholds are breached.
Pressures can be displayed across a map giving a complete overview across factories or leases.
SCADACore Integrated Products
Schneider Accutech Monitors
With the Accutech wireless monitors SCADACore can provide wireless remote communications back to SCADACore live without wiring a single line.
The Accutechs are fully integrated, battery-powered, rapid-deploy wireless instruments for measuring and monitoring data in challenging environments.
Some of the features of the accutechs include:
Deployment: no wires, trenching or conduit required
Operations: limited maintenance required
Easy to install and use:
Fully integrated power, communications and instrumentation
Mounts on any structure, quick configuration from keypad
Zero maintenance: 3+ years of maintenance-free service (up to 10 years depending on data rates and battery options).
Rosemount Transmitters
Rosemount transmitters are some of the most widely used and trusted pressure transmitters on the planet. They provide exceptional accuracy with a robust design that is perfect for any environment. Also available in wireless transmitter some of the rosemount features include:
Reference Accuracy: 0.025% of Span
Long-term Stability: 15 years
Limited Warranty: 15 years
Rangedown: 200:1
Installed Total Performance: 0.1% of span
Wika Transmitters
One of the most economical pressure transmitters available while not sacrificing any accuracy. Wika has hundreds of pressure transmitters and is world renowned for their quality and support.
Some of the features include:
Piezoresistive sensor and thin-film sensor technology
Pressure ranges from 0…15 psi up to 0…10,000 psi
Non-linearity: ≤±0.5% BFSL (≤±0.25% available)
Signal output: 4-20 mA, 0-10 V, 0-5 V, others
Electrical connections: DIN 175301-803 A and C, M12x1, 6 ft. cable, others
Four intuitive pricing models will meet all your monitoring needs
Bronze
Daily Reports
Twice Daily Alarm Checks
Daily Email Exports
Daily GPS Updates
No Demand Polls
Silver
Hourly Reporting
Real-Time Alarms Available
Writable Control Points
Hourly GPS Updates
Up To 10 Demand Polls Daily
Gold
10 Minute Reporting
Real-Time Alarms Available
Writable Control Points
10 Minute GPS updates
Up to 20 Demand Polls Daily
Platinum
5 Second Reporting
Real-Time Alarms
Writable Control Points
1 Year Data Retention
Real-Time GPS Tracking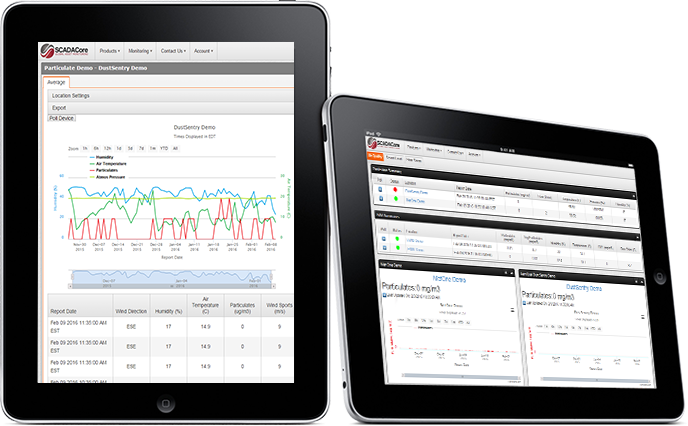 Want to know more?
Do you want more information on SCADACore's Industrial Process solutions?
Are you relying on monthly maintenance checks to ensure equipment is functioning correctly?

Would you like to lower you downtime and increase customer satisfaction?

Do you want to monitor for leaks or malfunctioning equipment with easy to install pressure transmitters?

Are you an product manufacturer or solution specialist who wants to provide sound level monitoring as a service, brand your SCADACore site to your colors, and logo and save money on permanent monitoring?