SCADACore provides turn-key monitoring services for all industry and business.
Trust SCADACore with your remote assets.
By providing SCADA with a Software as a Service model (SAAS), SCADACore Live hosting combines all the advantages of traditional stand-alone SCADA systems with no costly infrastructure costs. Monthly fees are based on devices rather than sensor's polled with no additional charges for additional features such as web reporting, importing, exporting, callouts, gps tracking or multiple logins.
SCADACore can collect data from thousands of devices using hundreds of different protocols.

Reports

are organized in user customizable dashboards with trending, maps, alert thresholds, and tables.

Callout

alarms can be triggered on escalating levels with reports sent by email or text message to multiple users.

Exports

can be periodically scheduled to send by email, ftp, or web service.

GPS

asset tracking available at no additional cost with all monitoring packages.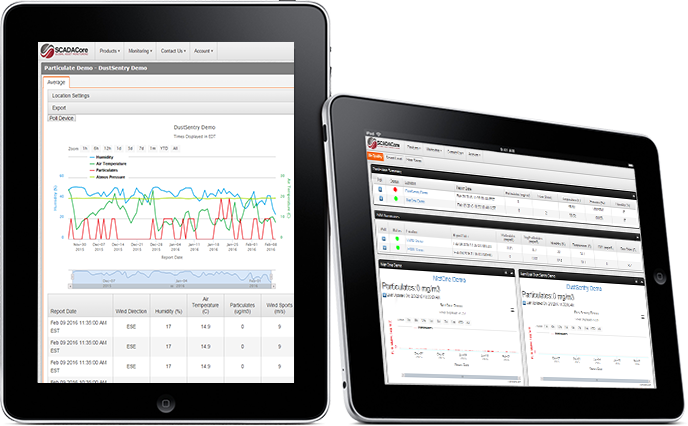 SCADACore Monitoring Applications
SCADACore Live Web Hosting Service is the fastest option to benefit from the "Internet Of Things" with no knowledge required to get started.
Would you like to offer SCADACore as a branded service to your clients? Click below to find out more.
Oil And Gas
SCADACore roots itself in the Oil and Gas industry developing the base engines and features to help serve the Operators, Accountants, and Engineers of the Industry. Our goal is to produce a product whose efficacy spreads equally across the field and the office. It is not acceptable to serve only one aspect of the industry, SCADACore strives to improve across all levels of operation to become the single provider of Oil and Gas monitoring. We will continue to develop innovative monitoring products to help improve efficiency in the field and reduce costs for our clients and partners.
Health And Safety
The SCADACore Health and Safety Monitoring helps companies keep their employees safe with real-time monitoring of hazardous gas and PPE auditing system to ensure correct operating procedures for personal gas detectors. SCADACore can design custom web applications that can be used by residents, townships, and companies to give themselves and their stakeholders peace of mind.
Industrial Hygiene
SCADACore designs our Industrial Hygiene monitoring solutions to meet our client's specific needs. We work closely with the products our client's choose to interface with them quickly using the SCADACore Collect Live plugin system.
Environmental
Environmental monitoring requires equipment to be robust and accurate to compare data over many years. Many of the sites SCADACore monitors are in remote areas that are difficult to get to in even the best conditions throughout the year. With the online remote monitoring and optional satellite reporting SCADACore can bring environment data back to you from anywhere on the planet.
Industrial Process
SCADACore offers our Industry sector clients the ability to monitor in real-time devices such as compressors, generators, turbines, tanks (hazardous and non-hazardous), and other machinery that is critical to your operations. With the escalating callouts offered by SCADACore Live employees can be alerted immediately if there is an issue with the equipment, resulting in a significant reduction in machine downtown. Combined with the ability to monitor and control remotely our clients can also save money by reducing "windshield time" of their employees driving to and from site.
Remote Surviellance
SCADACore Remote Surveillance is more than simply security. With motion activate Surveillance video users can be provided with real-time visual notifications if there is a remote failure on site. Water levels and air quality can be visual inspected from thousands of miles away keeping your residents and employees safe.
Connect to Everything… Everywhere!
Pressure, Temperature, Flow, Humidity, Chemical Levels for Industrial Process Monitoring Applications

Temperature, Humidity, Air Quality, Sound Levels, Water Levels for Environmental Monitoring Applications

Gas Flow, Well Pressure, Oil Pressure, Compressor Status, 3 Phase Testing, Pressure Buildups, Artificial Lift for Oil and Gas Monitoring Applications

Oil Leaks, Remote Site Surveillance, Water Levels, Remote Safety Surveillance, Remote Office Security for Remote Surveillance.

H2S, Carbon Monoxide, Oxygen, Methane, SO2, Benzene for Toxic Gas Monitoring

Remote docking station reports, Heat Stress, Sound Levels, Air Quality for Industrial Hygiene Monitoring Applications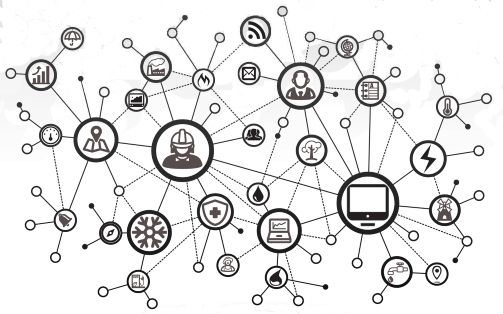 Four intuitive pricing models will meet all your monitoring needs
Bronze
Daily Reports
Twice Daily Alarm Checks
Daily Email Exports
Daily GPS Updates
No Demand Polls
Silver
Hourly Reporting
Real-Time Alarms Available
Writable Control Points
Hourly GPS Updates
Up To 10 Demand Polls Daily
Gold
10 Minute Reporting
Real-Time Alarms Available
Writable Control Points
10 Minute GPS updates
Up to 20 Demand Polls Daily
Platinum
5 Second Reporting
Real-Time Alarms Available
Writable Control Points
1 Year Data Retention
Real-Time GPS Tracking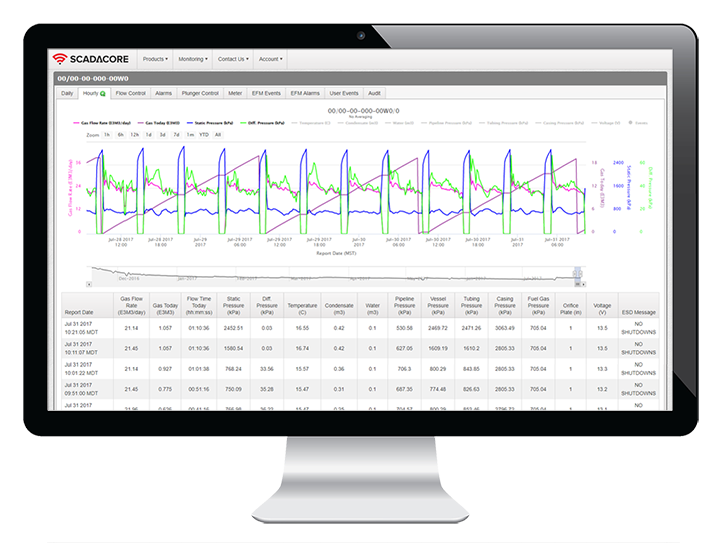 Want to know more?
Contact the SCADACore team for a full web demonstration customized for your industry and company.
Do you want to know where your assets are?

Do you need to know how your assets are operating?

Do you need remote security to ensure the safety of your products and personal?

Do you want to make your job easier?