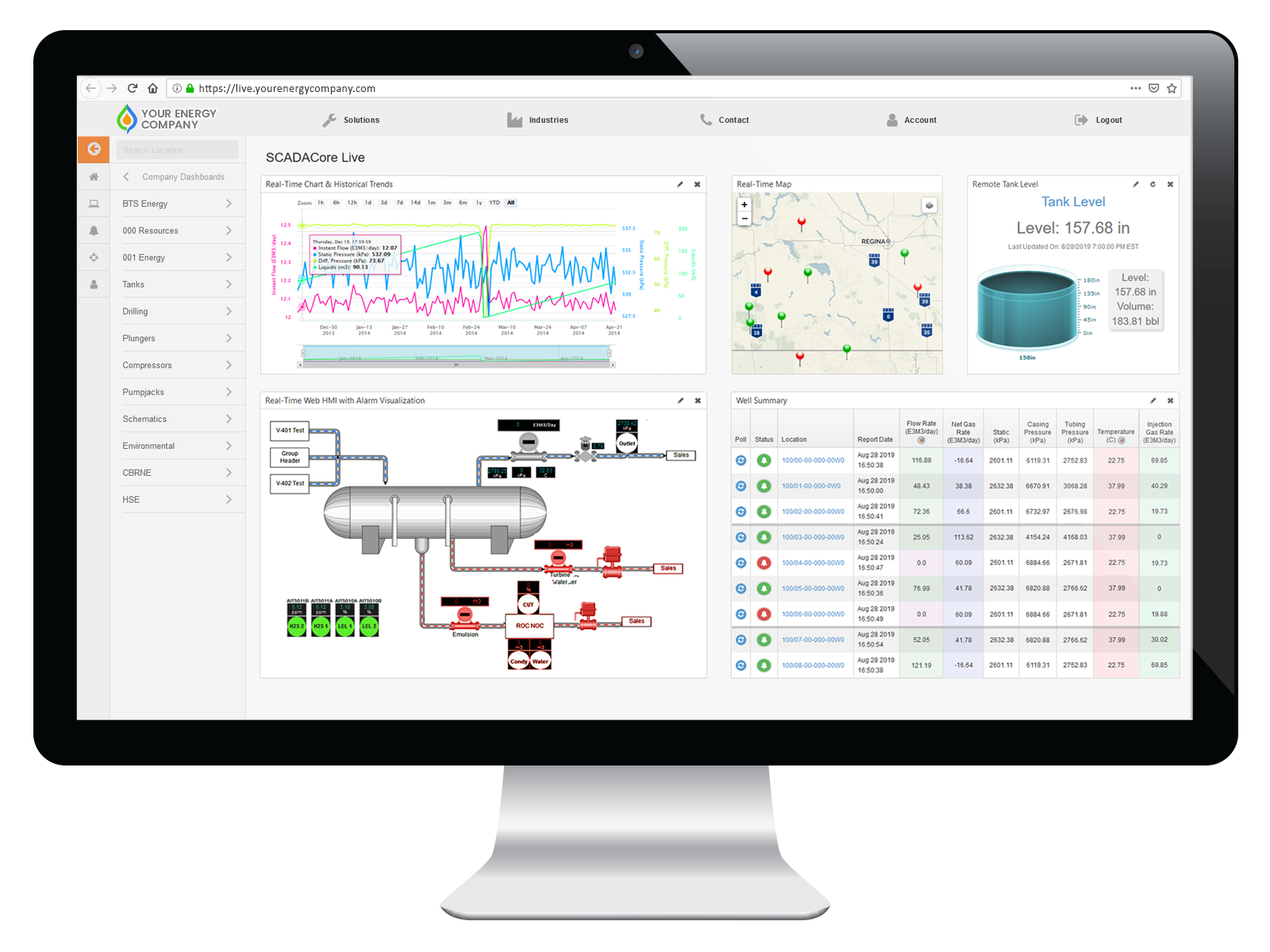 Fully-Managed Web SCADA / IIoT Remote Monitoring
Fully-Managed. No Server Cost. No Setup Fees.
All-Inclusive Pricing. 24/7 Support.
No Conversion Cost. 50% Off Your Current Bill.
SCADACore has had many successes bringing remote data to the cloud.
Our fully-managed Web SCADA provides producers with production and operational data through a modern user-interface, displaying all the important information in one place. Drill-down for powerful analytical tools such as trending, grids, HMI, historical data, alarms, and more.
Redundant SAS 70 Type II servers and multi-layer backups keep your data safe and secured. And our all-inclusive pricing has helped many clients reduce operating costs.
Are you a Technical Services Company?
SCADACore has worked with Technical Services company just like yours to build success.
Give us a call to find out how our fully-managed Web SCADA / IIoT system can help you focus on your business objectives, while allowing you to provide SCADA / IIoT service to your clients.
Collect, Report, Analyze, Callout, Export
SCADACore Live is a fully-managed Web SCADA system that helps companies bring their field data and devices into the cloud. SCADACore can HALF your current remote monitoring bill, while providing you with superior software and services.
No Extra Charges for Demand Polls, Exports, or Historical Data
No Programming Cost, No Hourly Charges
No Setup / Conversion Fee
No Commissioning Fees, No Site Setup Cost
Monitor and Control Hundreds of Different Devices and Protocols
Secure, Redundant Servers with Multi-Layer Backups
Customizable Dashboards with Trends, Tables, Maps, Alert, and More.
Exports to FTP, Email, Prodman, ProdView, and More.
Alarm Callouts to Alert Operators via SMS, Email, or Voice
Access All Historical Data at No Extra Charge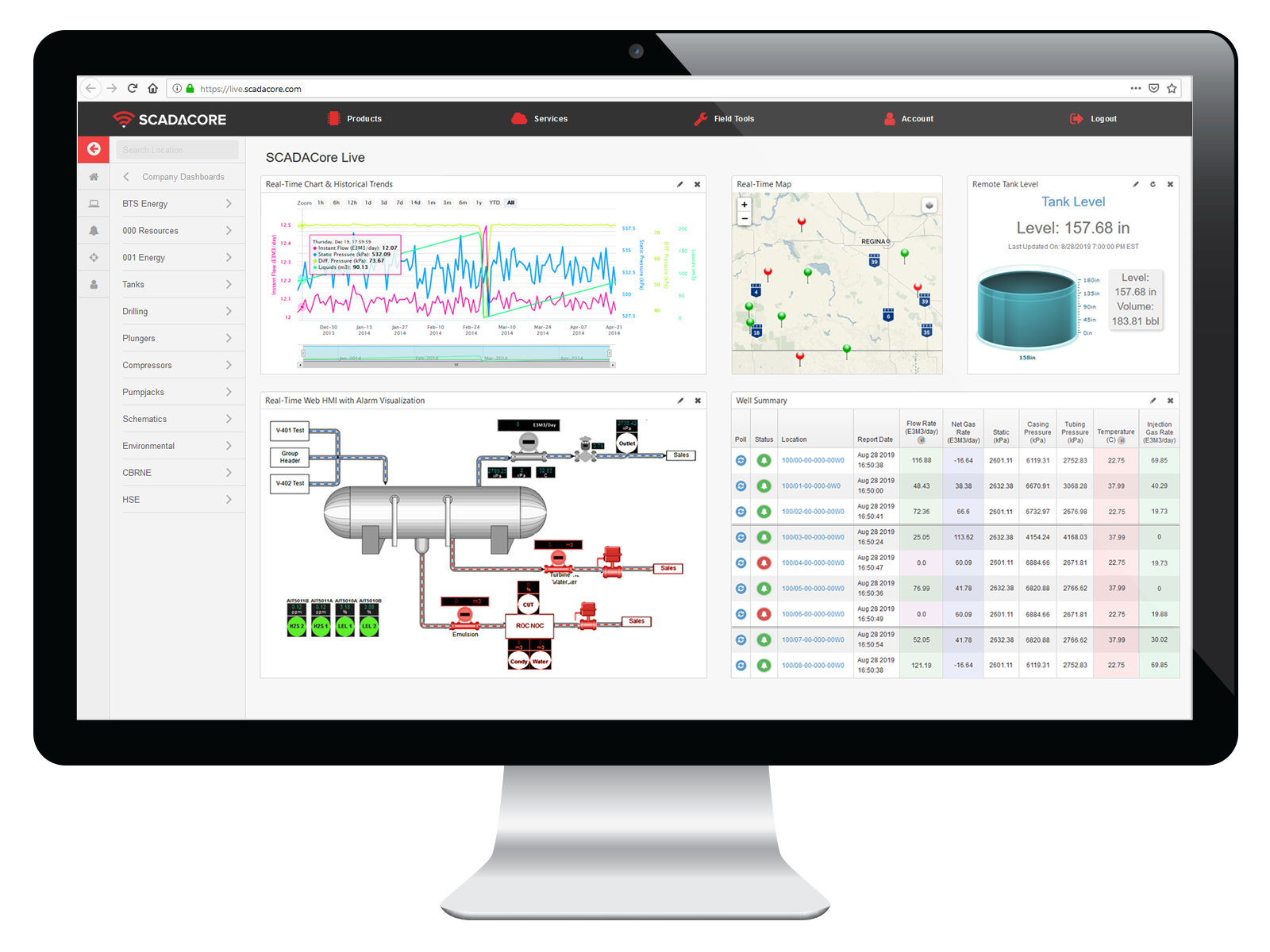 SCADACore Live Remote Monitoring Features
SCADACore Live is an enterprise SCADA / IIoT Remote Monitoring solution for industrial applications.
The system is fully-featured with powerful graphing features, voice / SMS / email alarm callouts, a wide-range of devices, drivers, and data import and export support, all packaged in an all-inclusive hosting package that is vastly more affordable compared to other solutions on the market.
Data Exports
The Export Engine in SCADACore Live provides our clients with highly-configurable system that can export data to conform to any data formats. Our engine can integrate with any third-party systems, with wide-array of supported data formats including CSV, Excel, Pivot Table, PDF, and more.
SCADA / IIoT Hosting
SCADACore's SCADACore Live Hosting provides web-based remote monitoring and data archival functionality, letting you access your data, trends, and reports anytime, anywhere. With secure, redundant servers, and secure remote login, we take care of all the Industrial IoT Remote Monitoring details for you.
SCADACore Live Applications
New applications can be easily added and customized at no extra charge. SCADACore Live is a one-stop solution for all your remote monitoring needs.
Pressure, Temperature, Flow, Humidity, Chemical Levels for Industrial Process Monitoring Applications

Temperature, Humidity, Air Quality, Sound Levels, Water Levels for Environmental Monitoring Applications

Gas Flow, Well Pressure, Oil Pressure, Compressor Status, 3 Phase Testing, Pressure Buildups, Artificial Lift for Oil and Gas Monitoring Applications

Oil Leaks, Remote Site Surveillance, Water Levels, Remote Safety Surveillance, Remote Office Security for Remote Surveillance.

H2S, Carbon Monoxide, Oxygen, Methane, SO2, Benzene for Toxic Gas Monitoring

Remote docking station reports, Heat Stress, Sound Levels, Air Quality for Industrial Hygiene Monitoring Applications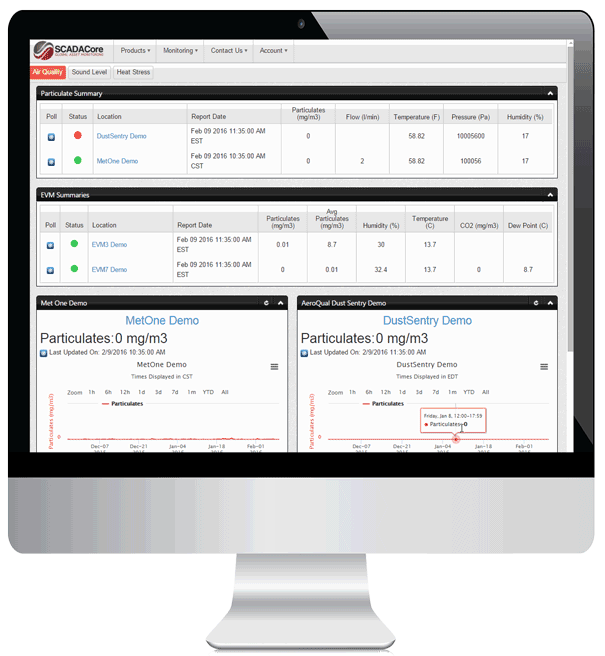 Want To Know More?
SCADACore's turn-key SCADA / Internet-of-Things solutions allow you to monitor your devices with no IT infrastructure, programming, or hardware knowledge.
There are no additional telemetry costs as our prices include cell modem plans, and there is no equipment to buy and no software to purchase or license.
SCADACore SCADACore Live is a fully-featured SCADA hosting system that provides users with all the features expected of remote monitoring systems and more.
Secured and redundant servers are used to keep your data safe and protected, and with 24/7 support, there is no better solution than SCADACore Live.
Contact the SCADACore team for a full web demonstration customized for your industry and company.